OUTDOOR LIVING... INDOORS
Sunrooms are a beautiful addition to your home, adding value to your property, creating extra space and offering a unique way to enjoy the Southern California climate all year long.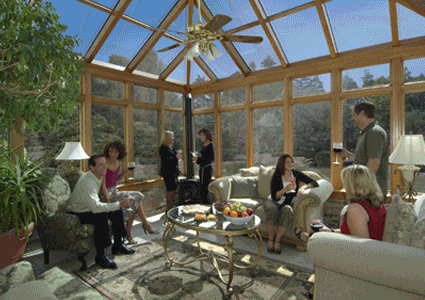 Go to
Sunroom Gallery
to see more ideas for your dream sunroom, patio room, patio enclosure, solarium, or conservatory.
Sunrooms are significantly more cost effective, easier to install, and cause less mess than construction of ordinary room additions; not to mention take much less time to construct. You'll save money on heating and cooling costs and get to enjoy outdoor living indoors all year long in your spectacular Four Seasons Sunroom.
Sunrooms are much more than just room additions; sunrooms provide a sanctuary for you and your family and are designed to enhance your lifestyle. The combination of natural light and comfort ensures that a sunroom is the most used room in your home. See our sunroom gallery for different ideas that sunrooms can be used for.
Right now you can save 35% on your sunroom...Fill out our contact form and a representative will contact you with details.
Ambiance Additions has specialized in the design and installation of sunrooms for over 20 years. Our website shares our knowledge on all types of rooms, including:
Sunrooms
Patio Rooms
Solariums
Patio Enclosures
Conservatories
Four Seasons Sunrooms
Room Additions
Southern California Sunrooms
We encourage you to discover more about the unique benefits of sunrooms and see how to fill your home with natural light, add the space you've always wanted and enjoy the benefits of an outdoor living area, 365 days a year!